We're proud to have exhibited at UK Metals Expo 2022
Hats off to UK Metals Expo, 2022 for bringing together the metal industry community this month!
The inaugural UK Metals Expo was held 14-15 September at the NEC in Birmingham, with the endorsement and collaboration of the UK Metals Council, its member trade associations and numerous industry bodies.  
Ian Hutchinson and Paul Whitton from The Expanded Metal Company were in attendance, representing the company as just one of the more than 100 businesses exhibiting.  
They found it was a great way to connect with peers, suppliers and customers as the entire metals supply chain was represented, from primary metal manufacture, supply chain management, processing metals and fabrication, through to surface coatings and recycling. 
It was great to showcase our range of metal mesh solutions and highlight their diversity and have conversations with delegates around common challenges in the industry and ways to overcome them.  
The expo provided us with further opportunities to discuss our additional capabilities in fabrication and finishing services, which includes galvanising, polyester powder coating and anodising.  
As well as the exhibition and multiple opportunities for networking, UK Metals Expo 2022 featured a number of seminars delivered by leading experts and government representatives. The main theme throughout was the role of innovation and technology, with discussions around how they can be applied to address challenges in the metals industry.  
Additional themes included supply chains, skills and the circular economy and the management of resource.  
It was really insightful to see how other companies are approaching challenges, in particular around filling the skills gap and meeting Net Zero targets by 2050. 
We also ran a Champagne draw on our stand, which was won by Graeme Brady, Engineering Manager at NG Bailey.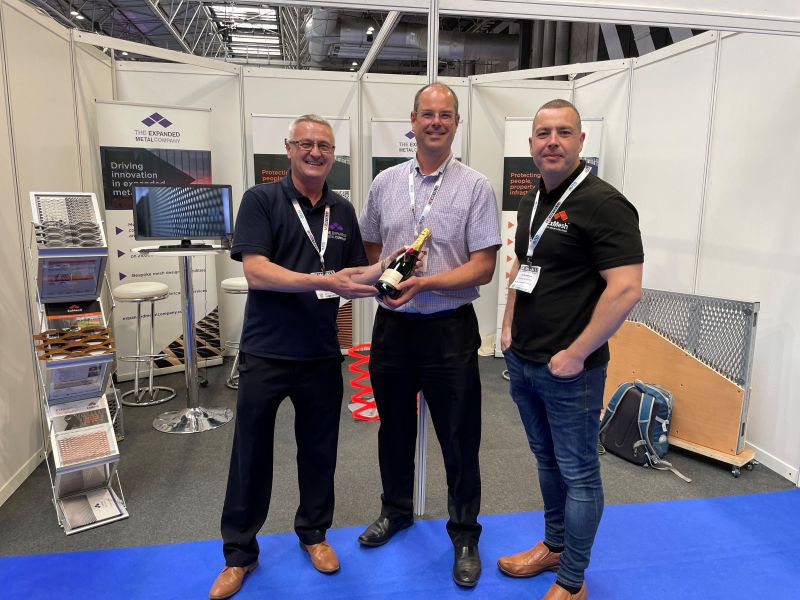 Ian Hutchinson, Commercial Manager at The Expanded Metal Company commented: "Paul and I were delighted to have had the opportunity to exhibit at the two-day event, which was the first of its kind in the UK. 
"It provided a great platform for the entire supply chain to get together and have meaningful discussions around the challenges impacting us as companies and as a wider industry.  
"It was also great to have so many engaging conversations around how we manufacture our expanded metal mesh, especially around its minimal-waste manufacture process, and discuss metal mesh innovations and applications." 
Want to be kept up to date on where you can meet the team and learn more about our products and capabilities? Sign up below to our emails or follow us on social media: LinkedIn, Twitter, Instagram.