The Expanded Metal Company has a rich history in the architectural world, having worked with high-profile clients over the course of nearly three decades. We've created bespoke expanded metal mesh for a range of architectural purposes – and it's seen across the globe, from Hartlepool to Hong Kong, Newcastle to New York.
Our early architectural projects
The Expanded Metal Company's first architectural project was Hong Kong International Airport, with work taking place on this from 1994-95. Working closely with architects, Foster & Partners, and the structural engineers and fabricators, Watson Steel, we created a walkway mesh which was laid specifically to double as an anti-glare screen, reducing the heat coming into the terminal building.
In 2005, we worked on our first mesh building façade. This was designed for Haworth Tompkins for the Young Vic Theatre in Southwark and was complemented by expanded metal balustrades for the redesign of the then 30-year-old building.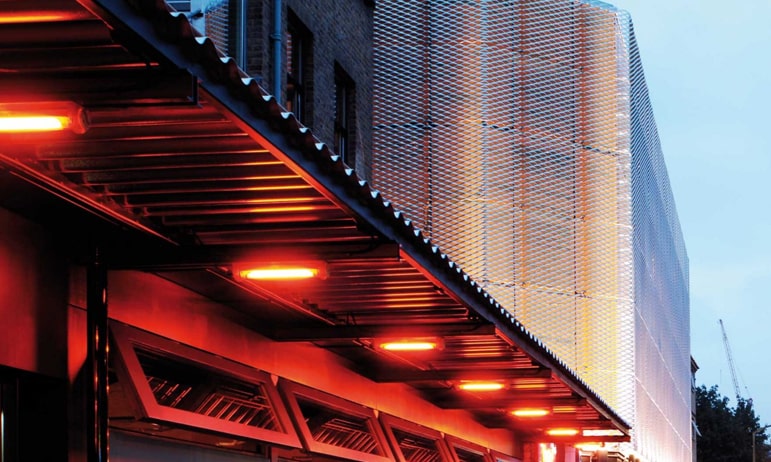 This was quickly followed by a project for the Bilbao Exhibition Centre in Spain. We manufactured sunscreens in large expanded metal mesh – now named Bilbao mesh – for the project. The external walls of the centre were covered with the mesh and we ensured the facade could withstand the Bilbao climate by using polyester coating on a hot dip galvanised base.
The expansion process created angled, louvre-like apertures within the material which acted as multiple miniature shades, as well as screening for plant. While the design was primarily focused on reducing heat in the exhibition centre, the mesh was angled to obtain a vertical stripe effect, creating a visually appealing façade. A similar mesh to Bilbao was later used for cladding on London's Stephen Lawrence Centre.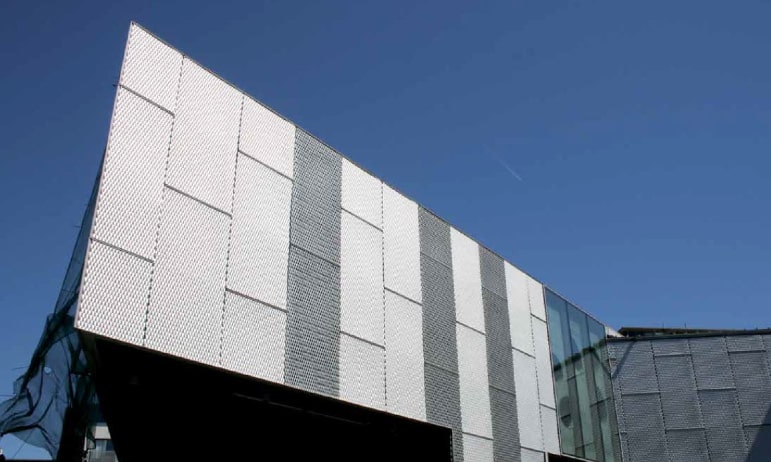 Our expanded metal cladding gained even more international attention when it was used on the New Museum in New York in 2006. With close interaction with the renowned Japanese architects SANAA and working in partnership with façade specialist James & Taylor, we manufactured expanded metal mesh cladding for the New Museum – Manhattan's iconic contemporary art museum. The building was named as one of the 'Seven wonders of the modern architectural world' by Conde Nasté a year later. With a solid aluminium backing, the west-facing mesh facade changes colour, reflecting the hues of the setting sun.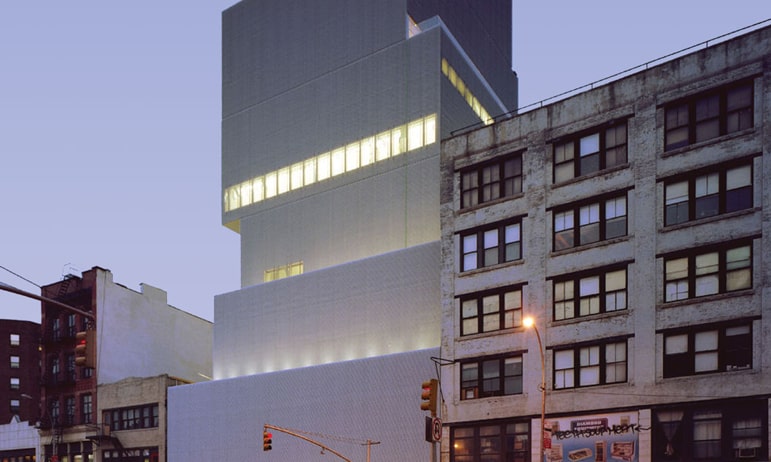 An overview of recent architectural mesh projects
The Expanded Metal Company continues to work on a range of architectural projects, building strong relationships with contractors, designers and architects to bring clients' ideas to life.
We recently worked with James & Taylor on the Queens Quay Energy Centre in Clydebank. Our raised aluminium range was used to inspire, excite and draw attention to the innovative solution offered by the district heating network.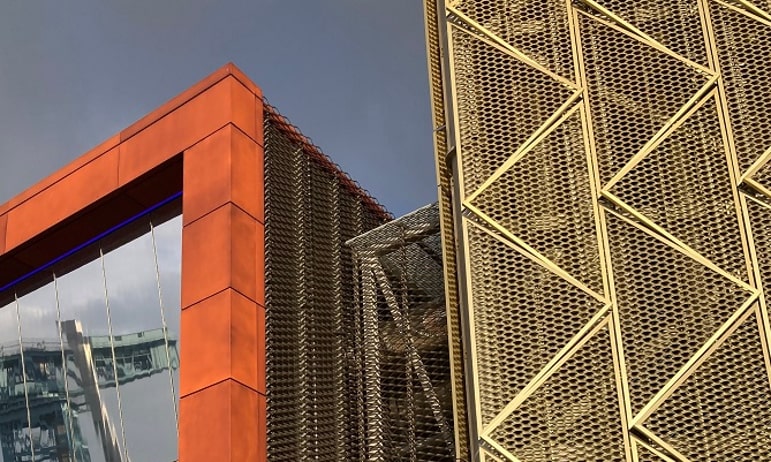 We have also worked with fit-out contractors for international restaurant chain Nando's in Dolphin Square, Weston-Super-Mare. They used our architectural mesh – finished with the chain's brand colours – to create screens and sweeping ceiling features, enhanced by the lighting effects used in the restaurant.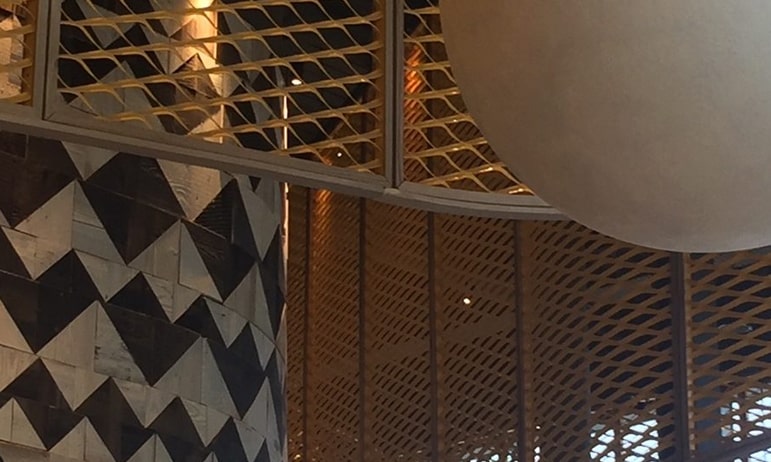 Another example was our partnership with BTS Facades and Fabrications for the 2020 opening of Grange University Hospital, Cwmbran. BTS needed a solution to screen four chimneys at the new hospital and chose The Expanded Metal Company's Athens aluminium building cladding mesh for the job. BTS stated that "…it's fantastic to see the results of our combined expertise on show at sites such as Grange University Hospital."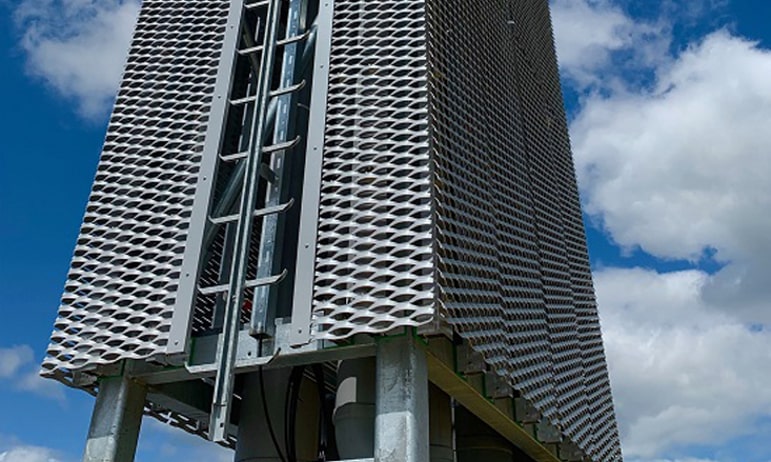 One of our smaller architectural projects was for a 'shipping container home' in County Derry, Ireland. Patrick Bradley Architects wanted the property's cladding to make the property stand out, while still complementing the surrounding landscape. Our partner, Ridgeway, chose our Bilbao mesh coated in a natural dark colour for the project. It was featured on Channel 4's Grand Designs programme and became a firm favourite of the presenter.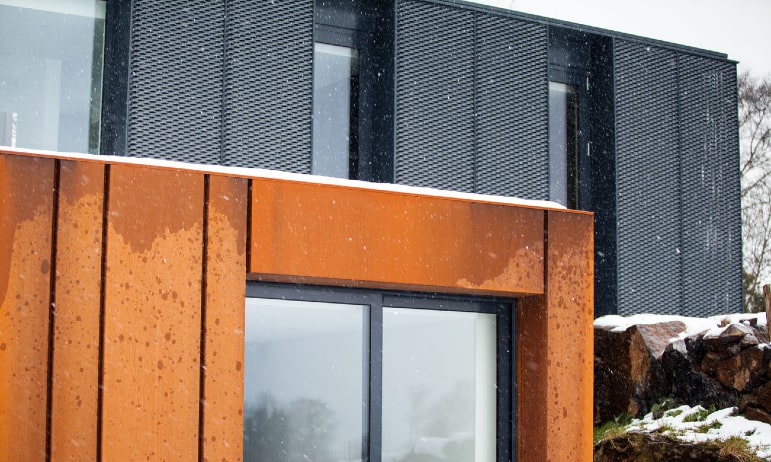 Versatility and flexibility across architectural projects  
Our expertise has been developed over many years of working with architects and contractors for high profile clients. We create architectural mesh products in a wide variety of materials, colours, patterns, finishes and textures.
Clients we have worked with use our architectural mesh on a range of internal and external projects, from decorative features and internal wall displays to large scale building cladding and facades. The Expanded Metal Company offers a wide range of building cladding meshes, but can also develop bespoke meshes for clients' needs.
We are continuing to work on architectural projects as we move into 2022 and beyond. To discuss how our expanded metal can support your architectural requirements, contact us here.